Useful Information
Location: Târgu Mureș (Tg. Mureș) is the seat of Mureș County, located in the North-central part of Romania, in Transylvania region.
The climate: Tg. Mureș climate is continental, mostly humid. In September, the average temperature is 16° C and humidity reaches 74 %.
Currency: The currency is Romanian Leu/RON (pl. Lei/Roni). One RON/leu is divided into 100 Bani. The exchange rates of the RON conversion are established on a daily basis, by the National Bank of Romania (BNR).
1 EUR = ± 4.55 RON
1 USD = ± 4.26 RON
Dialing code: 004 (national code - Romania); (0)265 (Tg. Mureș area code)
Electricity: 230V-400V/50-60 Hz. Plugs are two round prongs.
GMT: Eastern European Summer Time (EEST) is 3 hours ahead of Greenwich Mean Time (GMT).
Health: It is recommended that each traveler should own a health insurance to cover the duration of stay in Romania.
Visa requirements: Please, see visa requirements and further travel information on the official website of the Romanian Ministry of Foreign Affairs, at: https://www.mae.ro/en/node/2084
To see if a visa is required for you to entry Romania, go to: https://www.mae.ro/en/node/2040
How to reach Plaza Hotel
Airport transfer
Transfer route from Avram Iancu International Airport Cluj (CLJ) to Plaza Hotel.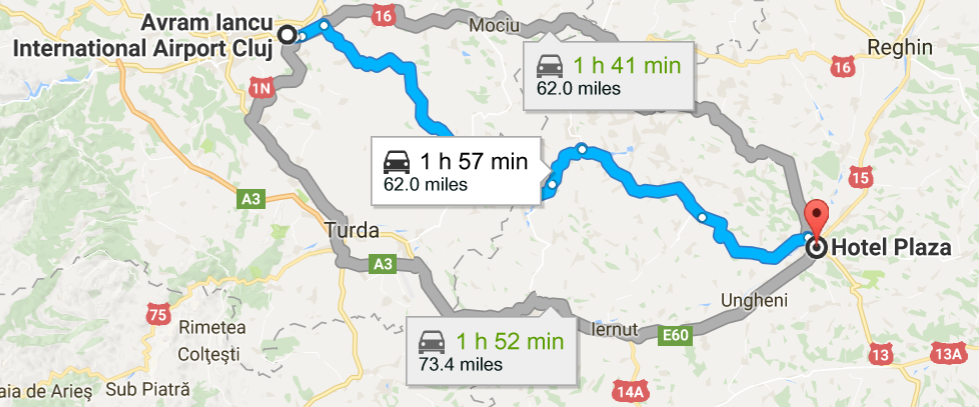 Most commonly, transfers from the Cluj airport to nearby cities is by car. Hotels in these cities usually provide transfer to/from the airport.
Plaza Hotel will be able to offer transport services to participants, at request.
This is a chargeable service and must be booked and acknowledged in advance (7-10 days prior to the arrival).
For transfer to/from the venue, please contact directly Laura Urdeș: urdeslaura@gmail.com
Arrival by air
Avram Iancu International Airport Cluj is located in Cluj-Napoca city, at 62.0 miles (99.8 km) away from Târgu Mureș. A number of airlines operate on this airport: Tarom, Lufthansa, LOT Polish Airlines, Wizzair, Blue Air, Turkish Airlines, ASL Airlines Switzerland. Major European capitals are connected directly to Cluj. TAROM and BlueAir are Romanian companies. TAROM - a SkyTeam Alliance member, is the Romanian national airline company. Approximate flight time from most European capitals is 1.50-3 hours.
More information about the flights are available at: http://airportcluj.ro/
Places of interest
Apollo Palace (Palatul Apollo): Piata Trandafirilor No. 5.
The Apollo Palace was built between 1820 and 1822 at the initiative of count Teleki Sámue. Today, the building is home to the local Art School.
Old Prefecture Building (Cladirea Vechii Prefecturi): Str. Bolyai No. 5.
The former seat of the Prefecture has been in use since 1711. The ground floor served throughout the years as a prison and on the top floor as an assembly hall. Currently, these spaces are used as workshops by the artists of Târgu Mureș.
Palffy House: Str. Bolyai No. 12.
Among the first representations of Baroque architecture built in Targu Mures, in the second half of the 17th century, the Pálffy House - built around 1640, reflects an evolutionary stage that surpasses typical Renaissance architectural elements such as those of the oldest buildings of Târgu Mureș.
Prefecture Building (Palatul Prefecturii): Str. Primariei No. 2.
The present headquarters of the Mures County Council, also known as the former City Hall building, make up, together with the Culture Palace, a spectacular secessionist ensemble built in Târgu Mureș at the beginning of the 20th century.
St. Michael Wooden Orthodox Church (Biserica din Lemn Sf. Arh. Mihai): Str. Saguna No. 13 A.
The oldest Orthodox Church in Târgu Mureș harmoniously combines Romanian rural traditions with Baroque influences. The church was built between 1793 and 1794.
Teleki Library (Bibiloteca Teleki): Str. Bolyai No. 17.
The Teleki Library, founded at the end of the 18th century by Sámuel Teleki, chancellor of Transylvania, contains a large collection of first editions and important manuscripts documenting Transylvanian history, as well as mathematical and scientific works.
Targu Mures Fortress (Cetatea medievala)
In 1492 Prince Stefan Bathory ordered for a castle-fortress to be erected around the Franciscan monastery and church. A few of the original elements have been preserved, among them wall fragments on the Southern and Western sides, the tower on the Southern wing, attached to the furriers' bastion, and ruins of the South-Western tower, included nowadays in the tanners' bastion. The structure of these towers and the fact that they are square-shaped are indicative of a medieval type military architecture.
Ethnographic and Folk Art Museum (Muzeul de Etnografie si Arta Populara)
Address: Piata Trandafirilor No. 11
Open: Tuesday – Friday, 9:00 a.m. – 4:00 p.m.; Saturday 9:00 a.m. – 2:00 p.m.
Sunday 9:00 a.m. – 1:00 p.m.; Closed Monday.
Admission charge: Yes
History and Archeology Museum (Muzeul Judetean de Arheologie si Istorie)
Address: Str. Horea No. 24
Open: Tuesday – Friday 9:00 a.m. – 4:00 p.m.; Saturday 9:00 a.m. – 2:00 p.m.;
Sunday 9:00 a.m. – 1:00 p.m.; Closed Monday.
Admission charge: Yes
Accommodation
We have negotiated some great room deals for delegates attending the conference with 3 hotels, including the conference venue.
Plaza Hotel, Business Hotel and Ciao Hotel