Abstract Submission & Presentation Guidelines
Abstract submission for Oral and Poster presentation is now CLOSED.
All abstracts will be included in the Conference proceedings.
Authors may be invited to submit a full manuscript of their presentation for publication in the WAVMA'S quarterly The Aquatic Veterinarian
Posters will require presenter's presence during the Poster presentation session. At least one author of the poster must register for the Conference.
ABSTRACT TOPICS
1. Anatomy and Physiology
2. Aquatic Animal Welfare
3. Epidemiology, Emerging diseases
4. Husbandry and Industries
5. Immunology, Chemotherapeutics & Vaccines
6. Legislation, Regulation and Policies
7. Microbiology and Parasitology
8. One Health, Antimicrobial resistance
9. Public Health and Seafood Safety
10. Clinical cases, Conundrums
___________
Poster format: up to 1 x1 m in size.
The official language of the Conference is English.
___________
Please click here to see Our Key Note Speakers
PRELIMINARY PROGRAM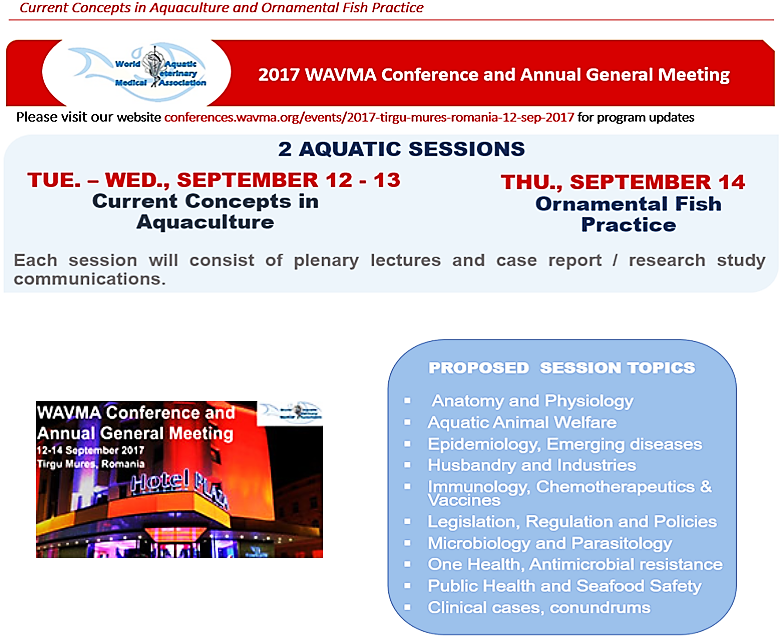 Post Conference Tours including visits to Dracula's Castle and the Danube Delta can be booked for before or during the Conference. For more information on these tours, please contact Trip To Romania by phone (+40726725985) or email (raluca@triptoromania.net). A description of the tours is available on the Conference website, at https://conferences.wavma.org/events/tirgu-mures-romania-12-sep-2017/family-activities